Career Opportunities
Be a Dispatcher
As the first, first responders, State Law Enforcement Dispatchers are non-sworn communications professionals who serve as the vital link between the public and law enforcement and are crucial to maintaining the safety and welfare of the public and law enforcement officers.
Be the best part of someone's worst day!
Who are We?
The Florida Department of Highway Safety & Motor Vehicles (FLHSMV) provides highway safety and security through excellence in service education and enforcement.  The Florida Highway Patrol (FHP), a division of FLHSMV, is a nationally accredited state law enforcement agency charged with enforcing the laws of Florida and ensuring the safety of the motoring public.  The vision of FHP is a safer Florida through Courtesy, Service and Protection. The Florida Highway Patrol (FHP) has seven Regional Communication Centers (RCC), each located in a major metropolitan area: Tallahassee, Jacksonville, Orlando-Sanford, Tampa, Miami, Fort Myers, and Lake Worth.  These state-of-the-art facilities operate 24/7 to provide professional dispatch and communication support services for FHP and seven other state law enforcement agencies.  RCC personnel are passionate, diverse, and committed to public service.
What will I be Doing?
As a Law Enforcement Dispatcher, you will be responsible for answering emergency and non-emergency calls and dispatching Troopers and other state law enforcement officers.  This work includes:
Assessing the nature of the call and what type of assistance is needed
Monitoring and responding to radio and data communications traffic.
Helping coordinate efforts between FHP and other agencies (e.g., the Florida Department of Transportation after crash incidents).
Receiving, relaying, and documenting call/incident details, law enforcement activity and other information.
What Training is Provided?
New Law Enforcement Dispatchers will participate in a four to six-month training program. The program is a mixture of classroom and on-the-job training and is structured in five phases:
Orientation/Basic Introduction;
Call Taking;
Radio;
Combining Call Taking & Radio; and
Shadowing.
The agency's 911 Public Safety Telecommunicator (PST) Training Program is certified by the Florida Department of Health.  This curriculum has been incorporated into the overall training program for new Law Enforcement Dispatchers.  Upon completion of the curriculum, an application will be submitted for the member to take the 911 PST exam.  The cost of the exam will be covered for members. Incumbents of this position are required to be 911 PST certified within 12 months of the date of hire. Visit the
Florida Department of Health's Licensing and Regulation page
  for more information related to the 911 Public Safety Telecommunicator Program.
What are the Job Requirements?
Potential candidates must:
Be willing and able to work rotating days and shifts to ensure coverage 24 hours per day, 7 days per week, including weekends and holidays.
Be 18 years of age or older.
Have a high school diploma or general equivalency.
Selected applicants must possess a valid Class E or higher driver's license.  Selected applicants must have no cancellations, suspensions, or revocations of the driving privilege for a minimum of three (3) years prior to employment and must also maintain a driving record with no more than three (3) chargeable motor vehicle crash or any violation defined in chapter 316, Florida Statutes, during any consecutive (3) year period of employment.
This position is subject to a Level 2 background check, along with Criminal Justice Information System (CJIS) and State Law Enforcement Radio System (SLERS) security clearance, to include a fingerprint-based check of the criminal history records of the FBI, as a condition of employment. As an applicant for positions requiring CJIS security clearance, you are required to disclose criminal records that have been sealed or expunged.
In addition, potential candidates must successfully complete a drug screening, medical and psychological examination.
Why Should I Apply?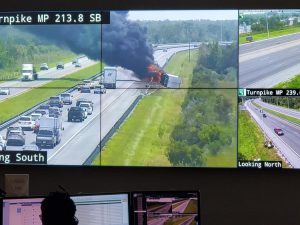 Are you good in a crisis and enjoy helping others? Do you want a job where your talents can have a positive impact within the community? Law Enforcement Dispatchers have a meaningful impact on individual lives and communities throughout the state. This job is not for everyone. It requires quick thinking and the ability to remain calm and think clearly while responding to emergency situations and emotionally charged individuals. The work can be frustrating and even heartbreaking, but it's always rewarding.
There was a call one night where an elderly female called in, she had gotten lost and was very confused about where she was. She was crying on the phone. I was able to get her to pull over and describe her location to me. Teamwork between myself, my coworkers, and the traffic management center allowed us to narrow her location and find her via the traffic cameras. We were able to send help to her and get her home safely. –Trae Maeder, State Law Enforcement Dispatcher
I reached out to a young man whose friends called in, concerned that he may harm himself. When I spoke to him, he did confirm that he wanted to end his life. We spoke about what was going on and the issues he was facing for about 30 minutes while trying to locate him. It was a different jurisdiction, but I didn't want to transfer him. Officers were able to locate him and get him the help he needed. –Melanie Mangan, Duty Officer Supervisor
What are the Benefits?
We want you to thrive here and part of that is having a job that works for your personal life and your career. What that means is a little different for everyone, but we offer the financial stability, health and wellness, and career growth options you need to help you achieve it.
Salary
Base Salary:
Additional Pay:
10% to 15% shift differential pay additive eligibility for all Regional Communication Centers except Tallahassee
$416.65 monthly critical market pay additive if living and working in Miami-Dade
Your total compensation is more than just the salary. Your total compensation package also includes insurance, retirement, leave and holidays. Depending on the benefit options you choose, your total compensation package could be anywhere from $60,729 to $71,381 annually.
Retirement
Florida Retirement System (FRS)
You will be eligible for automatic enrollment in the Florida Retirement System (FRS). FRS offers two retirement programs (FRS Pension Plan and FRS Investment Plan) to choose from, both of which are funded by state employer contributions and employee contributions. In addition, all FRS members have access to GuidedChoice, which is an independent advisory firm available to give tailored, unbiased investment advice and retirement planning guidance at no cost.
Working for FHP and having a pension for retirement is great. And with the state benefits I have the ability can have extra taken out for retirement. -Kelly Cox, State Law Enforcement Dispatcher
Deferred Compensation Plan
The Deferred Compensation Plan is an optional retirement savings program that gives you the opportunity to contribute additional savings towards your retirement through a pre-tax payroll deduction. To learn more about the Deferred Compensation Plan and for information on the investment provider options, please visit the Deferred Compensation website.
Paid Leave
We want our members to be at their best so that they can perform at their best. An important part of that is finding a good work-life balance. To help you with that, we offer several paid leave options.
Annual Leave – Members accrue approximately 2 to 4 weeks of annual leave each year for rest, relaxation, vacation, and personal business. The leave does roll-over each year and individuals coming to us from another agency in the State Personnel System will be able to bring their accrued leave with them.
Sick Leave – Members accrue approximately 2 weeks of sick leave each year for absences due to illness, injury, health-care appointments, etc. for yourself, a spouse, children, or others for whom you have caretaker responsibilities. The leave does roll-over each year and individuals coming to us from another agency in the State Personnel System will be able to bring their accrued leave with them.
State Holidays – Members receive 9 paid holidays each year.
Personal Holiday – Members also receive a 1 personal holiday to be used by June 30th of each year.
Administrative Leave – Members may be eligible to take administrative leave with pay for a variety of reasons such jury duty, voting, death in the family, parent/teacher conferences, mentoring, volunteering, etc.
Health & Wellness
Insurance Benefits:
We offer comprehensive and affordable life, health, dental, vision and other insurance options for you and your family. Most of these plans are offered on a pre-tax basis so your insurance premiums are deducted before calculating federal payroll taxes, which can save you money. To learn more, please visit the MyBenefits website.
Employee Assistance Program:
The Employee Assistance Program (EAP) has an abundance of free and confidential resources to help you manage everyday challenges or significant life events. Available services include legal and financial consultation, mental health and emotional support counseling, dependent care resource assistance, career advice, etc.
Critical Incident Peer Support Team:
FHP's Critical Incident Peer Support (CIPS) Team provides immediate support following a member's direct or indirect involvement in a critical incident in order to reduce short-term and long-term emotional, psychological, and physiological stress. CIPS Team members are trained to provide confidential, one-on-one peer support and group defusing.
Professional Developments
Career Growth:                                                  
Whether you want to strengthen and deepen your skill set within the Regional Communication Centers or branch out into other areas within the agency, there are career growth opportunities available for you.
Within the Regional Communication Centers there are dual career path opportunities to allow for upward mobility both for employees interested in and employees not interested in moving into supervisory positions. There are also potential transfer opportunities between Regional Communication Centers.
Tuition Waiver Program:
The State Employee Tuition Fee Waiver (TFW) Program is an excellent benefit available to full-time members who are either career service, SMS, or SES. You can attend any approved State University or Community College in Florida for up to 6 credit hours per term (total of 18 credit hours per plan year), and the majority of the cost of tuition will be waived.
The tuition waiver program saved me $1,400 per semester. I only paid for books and miscellaneous fees. It's wonderful to be able to get an education without going into debt! -Aerica Ramos, Assistant Communications Commander
Public Service Student Loan Forgiveness:
As a state government employee, you might be eligible for the Public Service Loan Forgiveness (PSLF) Program. To learn more, please visit the Federal Student Aid website.
What is the Selection Process?
The selection process consists of the below stages.
Stage 1: Job application submitted. 
Stage 2: Applicants who meet minimum screening standards will be sent an invitation to complete the Test Genius Skill Assessment (online call simulation testing). Those meeting the pre-determined scoring criteria will be moved forward in the process.
Stage 3: Those who pass Test Genius will be contacted to complete the RCC Supplemental Application and schedule an interview. 
Stage 4: Applicants will participate in an interview. 
Stage 5: Applicants who pass the interview will be provided with a contingent offer letter. This offer will be contingent on the successful completion of the background investigation which includes the below.
Reference Checks 
Fingerprinting and Criminal History Check 
Drug Testing 
Psychological Examination 
Medical Examination 
Stage 6: Upon successful completion of the background investigation and final hire approval, applicants will be contacted with a final offer letter and to schedule a start date. 
Note: Out-of-state applicants may be required to travel to Florida to complete portions of the selection process. This travel will be at the expense of the applicant.